SIFF Marathon
To DS.
"If I'm the teddy bear, why am I not getting the hugs?"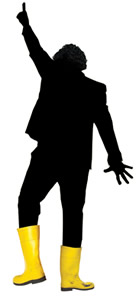 The Man With the Yellow Boots


Not too long ago, while in New Zealand, I learnt that the PCK Musical was looking for volunteers to help in certain areas of the production. I enquired about a particular part-time post and the lady responded.
Now, I didn't reply to her email but to my surprise, I was one of those who received an email today, being asked to go down and meet the director, so that he could get to know us better and to see which positions we could take up.

The shows will be in June and I think it'll be cool to be part of a professional musical setting albeit it being PCK lah!
Yes, I have my own musical commitments but the experience I would gain from it would be beneficial.
To go or not? Considering that it's on the same day as rehearsals.

Jia Yuan joined me on my SIFF marathon earlier today.
The three movies were worth the ticket price. They were worth my day. They were excellent despite of the different subject matters.


Of Love and Eggs



Garin Nugroho's new film Of Love and Eggs is a humorous and wittily structured tale about a small market in Jakarta. A boy working at a stall that sells duck's eggs practically obsesses on them, crushing or stealing them in a vain effort to rebel against working there. But they are just as easily a fecund symbol for love, birth and the boy's wide-eyed attraction for a mysterious young woman who moves into the neighbourhood. A taciturn girl is on a seemingly fruitless search for her absent mother's prayer mat. Older men idly run the mosque and attempt to teach distracted children. Lush in atmosphere, with short poetic or musical interludes by the various children as if marking chapters in a play, Nugroho's newest work is a delight to watch.





At first glance, it seems very much like Majid Majidi's Children of Heaven. But upon watching, it felt like Love Actually.
The idea of love revolving around a very tight community evoked feelings of honesty and sincerity. And that was how Nugroho went about with the story. And he pulled it off without having to step one foot out of the village.
Love between husband and wife. Love between families. Love for a religion.
Love between brothers. Love between daughter and mother. It goes on.
But to search and to find, was simply divine.
A B+ for the film.

Land of Plenty
After almost a decade of living abroad in Israel, Lana (Michelle Williams, Imaginary Heroes, Prozac Nation) returns home to go to college and search for her only living relative, her mother's brother Paul. Living on a modest budget with a family friend, Lana is a youthful optimist working in a homeless shelter who wants to see the state of affairs in the country change from its atmosphere of post-911 paranoia. In ironic contrast, former Vietnam veteran Paul (John Diehl) is a loner obsessed with weeding out people who are dangerous to the nation's "security". He camps out in a DIY surveillance van taking notes on suspicious people. When the two meet, the results are surprising and cathartic. Wenders has always had an uncommon eye for the lost and derelict in American's urban landscape, and 'Land of Plenty' allows him to push this keen vision further.
Won the UNESCO Award at the Venice Film Festival 2004.
Wim Wenders scores with this movie. It's sad to discover that studios are afraid of marketing the movie as they deemed it as being too political. But this was a good movie. Though a bit draggy, the movie tries to remain subtle.
The two protagonists scream irony as their characters "bond" with each other.
The pacing was a tad slow but it built up the ending.
The movie depicts the exact feelings immediately after the 9/11 incident.
Rising fears.
Stereotypes.
I sympathised with Paul. A victim of the Vietnam War, here he was teetering on the fine line between obsession and patriotism.
To see characters stumble into a pitfall after revelations and stripped bare to his/her emotional core, was truly moving.
And both Paul and Lana's speech on the day 9/11 occurred brought balance to the movie and finished it off nicely soon enough.
An A for the film.
Samaritan Girl

Made during the same year as 3-Iron, the prolific Korean director Kim Ki-duk's 'Samaritan Girl' is an interesting continuation to Spring, Summer…(SIFF 2004), exploring themes of religion, suffering and absolution. Teenager Yeo-jin (Kwak Ji-min) and her best friend Jae-young (Seo Min-jung) want to save money for a trip to Europe for which they have devised an unusually self-compromising system. Jae-young earns money as a sex worker while her friend manages her clientele of older men. Jae-young's rationale is curiously philosophical: she compares herself to Vasumitra – the prostitute in Indian legend who turned the men she slept with into faithful Buddhists. But this acquired detachment and equanimity does not stand the test of pain – both emotional and physical – which Jae-young inevitably leaves herself open to. As ever, Kim Ki-duk's work is daring, discomforting and powerful. Winner of the Silver Bear at the Berlin International Film Festival 2004.
The final movie really topped the evening. Firstly, we were surprised to see the lobby area packed to the brim and later realised that it was almost full house. And, if they were all there to watch the movie because of Kim Ki-Duk, they were on the same page as us.
I must say that Kim Ki-Duk has become one of my favourite directors as of late. Though I've not seen 3-Iron, I was told it was a marvellous ride.
And just as well, Samaritan Girl was a marvellous experience too.
Land of Plenty had set me thinking.
Samaritan Girl made it worse, though in a good way.
I was in deep thought throughout the train ride as well as the walk home.
Don't let the synopsis fool you.
It's not about the sex at all. In fact, there wasn't much sex to begin with but the implications were prominent.
The movie became a journey about discovering one's self. About doing things we don't want to do but we are obligated to do.
An individual with so much pent-up frustation never once addressing the matter with the catalyst but making collateral damage of those who stood in his way. That alone justified the ticket price.
It was about decisions. About consequences.
About how we deal with what troubles us most.
Poignant. Emotional.
An A for the film.
There were 2 common themes that prevailed from all 3 films.
Love and Family though it might appear unapparent from the respective synopsis for the later two.
"How much more grievous are the consequences of anger than the causes of it."
(
Marcus Aurelius
)
Therefore, to think before you do.