Morbid Morning, Delectable Day
"The only rules that really matter are these: what a man can do and what a man can't do. For instance, you can accept the fact that your father was a pirate and a good man or you can't. But pirate is in your blood, boy, so you'll have to square with that someday. And me, for example, I can let you drown, but I can't bring this ship into Tortuga all by me onesies, savvy? So, can you sail under the command of a pirate, or can you not?
"
Captain Jack Sparrow from Pirates of the Carribean
Can you?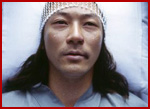 Vital

Shinya Tsukamoto (Snake of June, Tokyo Fist) has always turned to the flesh as an important motif in his films. In Vital, the filmmaker delves beneath the flesh to see where memory intersects with our innards. Hiroshi Takagi (Tadanobu Asano of Zatoichi, Last Life in the Universe) is a medical student who wakes up in a hospital after a near-fatal road accident. The incident leaves him with injuries that have caused severe memory loss and his girlfriend Ryoko (Nami Tsukamoto) dead. After returning home to convalesce, he discovers a medical textbook which rekindles memories of his passion for medical studies. He eventually decides to return to university to continue his academic work and finds himself confronted with Ryoko's corpse during an autopsy class. This leads him on a feverish search for their collective past through the physical remains of Ryoko's body.
It's not too often when you watch a few movies that make you think back to back in straight days.
Land of Plenty and Samaritan Girl were both still lingering at the back of my mind when I awoke and I still hadn't finish discussing the movies.
And so, Vital was on the agenda first thing in the morning. I really liked the premise of the movie. However, I felt that the whole notion of Hiroshi having to dissect his girlfriend's body could have been further explored.
I won't say much about this film but if I could sum it up in just one word, it's morbid.
I enjoyed Tadanobu Asano's performance in Last Life in the Universe and Zatoichi and it was no different here.
The Johnny Depp of Japan perhaps for being able to transit into versatile characters easily?
On a brighter note, sand danced its way onto my toes with every beat of the drums that were blaring from a nearby radio.
While the rest went blading and swimming, I formed my own recluse and started writing.
"To unwind, to rest,
To play and break free.
The sun burns on the sea's chest,
a Sunday afternoon at ECP."