An Hour With Keagan
What an interesting week this has been. From Neil Gaiman to Keagan Kang. Hahakz.
I'm saving my thoughts on "Redhill Blues" for tomorrow though. A production by drama.republic of RP.
Anyhoo,
If ever you need proof that celebrities are just as human as us, can be just as nice and that they enjoy what they do, Keagan Kang is the man you should meet.
If your perception of people in the theatre and media industry are negative, Keagan Kang is the man you should meet.
If I were honoured to have had my notebook signed by Neil Gaiman, then I was honoured to be sitting next to Keagan and being interviewed together at the same time. And it doesn't matter at all if it was a student project.
Thank you Dhaniah and gang for making it happen! Woohoo!
I think we were all overwhelmed by his affable nature. He shook hands with everyone in the room and he was very nice in calming Elizabeth down. He really understands what it feels like to go through all this. To quote him, "It's always nice to have someone else who's more nervous than you".
Before the show started, we actually were on set, being miked up and all, and we talked. And he expressed genuine interest in my theatre group, Yellow Chair Productions and I told him about our Ides of March musical too!!!
And when I told him it was about Julius Caesar, he asked why and then this, "Which text of his (Shakespeare) do you like?"
That caught me off guard. Haven't had anyone asking me that! Weeeee!
He talked about his future projects and all, that includes a film scheduled for release next year.
And he just couldn't stop laughing, at almost everything.
And lo, the interview went smoothly. Very smooth.
Oh yeah, and the angle was about bringing an established theatre practitioner and one who's coming up together and asking them their views about the local theatre scene.
And oh, I don't mind it at all if everyone else were raving and talking about the day they met Keagan Kang. I was just as overwhelmed!
I've met a nice writer and a nice actor in one week!
And I must also say that the general atmosphere in the studio was pretty comfortable. I ddin't feel awkward for the slightest moment.
The project group really had people who are great! The group dynamics was superb!
If anything, I wouldn't think twice if I were to hang out with them!
And here's the pic of the excellent group and the very down-to-earth Keagan Kang.
Oh, and I'm in there too somewhere. Hahakz.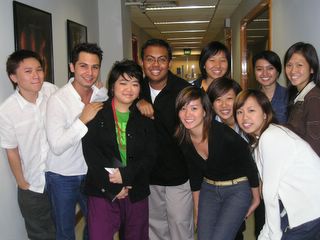 The Unusually Usual Suspects