Dissecting the PCK Musical again...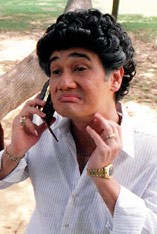 "There are no pirated DVDs of our musical in JB?"

Yes, I've talked about this before but I felt that after finding a particular quote, I must review what I had written. I'll get to the quote later. Meanwhile...
For a local production to have received so much flak is pretty saddening.
The mention of a $3 million budget certainly brought much promise and hope that Singapore would be able to produce a world-class musical that could be on par with the likes of Phantom of the Opera and Rent. Afterall, 'tis not wrong to dream right?
And yes, I was secretly going to buy a ticket. That was until we got it for free.
And somehow, all the hopes that everyone had for the production started with a spark and ended with a fizzle.
There was much talking in the audience, the lack of laughter was apparent and some of us were sleeping even.
The direction, dancing, singing and acting were alright but the script made me wince.
Seriously.
PCK thinks his family has forgotten his 40th birthday but they are actually planning a surprise party. Well, fair enough. But really, didn't it occur to everyone in the production that this part of the plot alone would be something out of a primary school textbook.
To add some spice to the plot, PCK discovers his long lost brother, his mother immediately thinks her late husband cheated on her and PCK conveniently decides to bequeath his properties to the long lost brother when a Feng Shui master tells him that he's going to die tomorrow.
The problem is that these incidents all occur too quickly and is pretty much unbelievable.
And then, in the 3rd act, we discover that Frankie Foo was behind everything, he has a heart attack and PCK helps him. What happens next is pretty obvious, Frankie Foo returns everything and they almost make up. Of course, the show closes with everyone remembering PCK's birthday and the fact that our nation's birthday is coming up.
In all honesty, the 2 hour musical could have been compressed into a 45 minute vehicle and could go from school to school instead.
And Mark Lee, as quoted in the papers, "Perfect!" I rolled my eyes.
Granted, no production is perfect and cannot suit everyone's palates.
Hell, I fear what reviews our musical will receive come August.
Thus, we can slam and critic, but we will always fail to realise the effort everyone in the production has put in. The amount of sweat, tears and maybe even blood shed during every rehearsal to get every bit right truly must be commended.
There were genuinely heartwarming moments and there were sincere laughs.
As much as I cringed throughout, I can understand the pain the cast and crew is going through with all the negative feedback in the media.
So, to the cast and crew, I have something to say.
As cliched as it always may sound, keep trying.
Just like in Batman Begins, when Thomas Wayne said to his son Bruce, "Why do we fall? So that we might better learn to pick ourselves up."
And this, was echoed by his butler, Alfred too.
Let it all pass. Come back stronger than before and prove your worth.
And thus, the quote,
"If the production pleases everyone, then consider it a total failure. If, on the other hand, everyone criticizes your work, then perhaps there's something worthwhile in it. Real success comes when people argue about your work, when half the audience is in raptures and the other half is ready to tear you apart"
(Vsevolod Emilyevich Meyerhold)

Coming from the late Russian theatre pioneer and practicioner, Vsevolod Emilyevich Meyerhold. And I think, anyone who wants to put up a show should think this through.
Hmm...exactly 2 months more to this date.