Movie Previews: Mr. and Mrs. Smith
Apart from 2 Japanese horror films which are due to be released on June 9th, the main dish to be released on that date will be the action packed Mr. and Mrs. Smith.
I guess that's the only watchable film of the week although I'm expecting a very cliched offering.
Nonetheless, Angelina Jolie + Brad Pitt is a powerful equation by itself.
Director Doug Liman will have his fare share of fans from his Swingers days and most recently that of Jason Bourne's adventures.
And, Adrien Brody would be the pulling factor for the O.C. driven generation...right Nadiah?
Wait till what I have in store next week.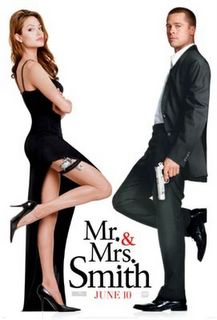 The Smiths

A sexy spy thrill ride. John and Jane Smith are ordinary suburban couple with an ordinary, lifeless suburban marriage. But each of them has a secret – they are actually both legendary assassins working for competing organizations. When the truth comes out, John and Jane end up in each other's cross hairs.
(Synopsis courtesy of moviexclusive.com)
I may or may not like this.
Can I just have Agent Smith instead?