Movie Previews Special!
Alritey dear readers, apologies for the lack of updates.
To make it up to everyone, here's 3 previews (I owe one from last week)
and I'll be covering my Neil Gaiman experience tomorrow okay?
First up, Fantastic Four is set for a July 7th release.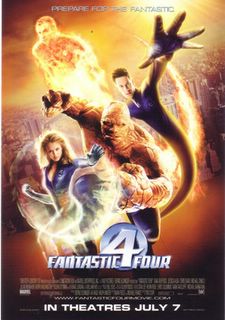 Fantastic Four
An outer space mission in the quest to unlocked the mystery of human genetic codes had yield undesirable results to the DNA of its astronauts: The leader, Dr. Reed Richards (Ioan Gruffudd) now able to stretch and contort his body into any shape one could ever imagine; Sue Storm (Jessica Alba), also Reed's ex-girlfriend, is able to render herself and the surrounding objects invisible with a powerful force field; pilot Johnny Storm (Chris Evans) could now engulf his body in flames and take flight at will; and astronaut Ben Grimm (Michael Chiklis), also Reed's close pal, becomes an orange-colored, rock-like, "Thing", with Superhuman strength and is practically indestructible!
Though they were now misfits in the society, they soon put their nature-gifts into good use against the steely-eyed, iron-fisted nemesis Dr. Victor Von Doom (Julian McMahon), protecting the citizens of New York City against any of his vicious plans.
(Synopsis courtesy of moviexclusive.com)
I'm not too keen on this movie. But I saw it anyways. Not as good as Spiderman or Batman but better than Hulk. Consolation lah.
And then, on July 14th, after an extremely long wait, Sin City will reach our shores, CLEAN. And thus, having to suffer the R21 rating.
Sin City
The central story follows Marv, a tougher-than-nails street-fighter who has always played it his way. When Marv takes home a Goddess-like beauty named Goldie, only to have her wind up dead in his bed -- he scours the city to avenge the loss of the only drop of love his heart has ever known.
Then there's the tale of Dwight, a private investigator perpetually trying to leave trouble behind, even though it won't quit chasing after him. After a cop is killed in Old Town, Dwight will stop at nothing to protect his friends among the ladies of the night.
Finally, there's the yarn of John Hartigan – the last honest cop in Sin City. With just one ticking hour left to his career, he's going out with a bang as he makes a final bid to save an 11 year-old girl from the sadistic son of a Senator . . . with unexpected results.
(Synopsis courtesy of moviexclusive.com)
While Fantastic Four is one weak comic adaptation, Sin City is a far cry from weak. If you liked Kill Bill, you'll enjoy this.
I'm not even a fan of the comic. But the first trailer got me hooked and I believe now, one of the best movies of 2005. A must watch!
And the special treat, CRASH. Still unsure whether it's slated for a July 7th or July 14th release and I think will only be shown exclusively at GV. Don't quote me on that though.
I've been waiting for this one for quite a while now too. Think Love Actually but many times more intense and sensitive.
Crash

A Brentwood housewife and her DA husband. A Persian store owner. Two police detectives who are also lovers. An African-American television director and his wife. A Mexican locksmith. Two car-jackers. A rookie cop. A middle-aged Korean couple... They all live in Los Angeles. And during the next 36 hours, they will all collide... Challenging and thought-provoking, Lions Gate Films' CRASH takes a provocative, unflinching look at the complexities of racial tolerance in contemporary America. Diving headlong into the diverse melting pot of post-9/11 Los Angeles, this compelling urban drama tracks the volatile intersections of a multi-ethnic cast of characters' struggles to overcome their fears as they careen in and out of one another's lives. In the gray area between black and white, victim and aggressor, there are no easy answers... Funny, powerful, and always unpredictable, CRASH boldly reminds us of the importance of tolerance as it ventures beyond color lines...and uncovers the truth of our shared humanity. This dynamic feature brings us a distinguished cast including: Sandra Bullock, Don Cheadle, Matt Dillon, Jennifer Esposito, William Fichtner, Brendan Fraser, Terrence Howard, Chris "Ludacris" Bridges, Thandie Newton, Ryan Phillippe and Larenz Tate. This is the directing debut of award-winning writer/producer Paul Haggis ("Million Dollar Baby") from a story by Paul Haggis and a screenplay by Haggis and Bobby Moresco. CRASH is produced by Cathy Schulman, Don Cheadle, Bob Yari, Mark R. Harris, Bobby Moresco and Paul Haggis.
(Synopsis courtesy of dgital at moviexclusive forum)
So, a movie going treat these few weeks aye? hehehe...