Sketching Life's Newest Chapter
And yes, I'm out of Tekong. Ta-ta lil' island!
Post-POP, it was straight to work with a press conference cum interview with Daniel Wu.
Visit
www.moviexclusive.com
for the feature.
The highlight had to be the production that spanned the weekend.
First time ever doing 5 shows at a go. It got pretty exhausting particularly on the first day.
Here are some pics.
At work & play
Of course, we found time to take a break for dinner and all.
Bon Appetit
The show went pretty well and am very happy. Despite that, got pretty irritable when the fact started sinking in that I'd be reporting to my new unit Monday morning.
Where am I going?
Guards.
Sigh.
The Light
"Why oh why? What happened to wishing upon a shooting star?"
In any case, I refuse to let it bother me while I finish off this entry with a beautiful picture taken at the end of the show earlier this evening.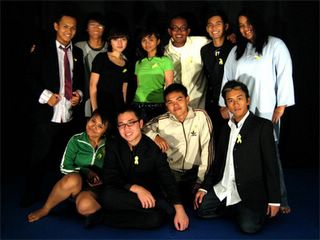 Sketches: A Story of Hope