FunkyGrad Writer!
Loyal readers should know by now that I've been a columnist with MovieXclusive.com since February 2005. A lovely job that has taken me places I must say.
I love my part-time job though I don't get a cent out of it.
While things are picking up for the website, things are picking up on my side too.
FunkyGrad.com!
As of November, I've officially joined the team at FunkyGrad.com as a contributor too. For the uninitiated, FunkyGrad.com is a website for tertiary students. Started in 2000, the website has grown considerably and if you're keen to know what's happening on other campuses, FunkyGrad is the place to check it out! Click on the logo above to take a look at what the website has in store for you!
The experience, though still brief, has been a learning one.
Below are the articles and reviews I've contributed so far.
I interviewed the contestants of the SIM-UOL SRC Bash 2005 pageant.
Click on the picture below to read the article.
Liberte D' Expression Contestants
My first review for the website was SAW II.
Click on the poster below to read the review.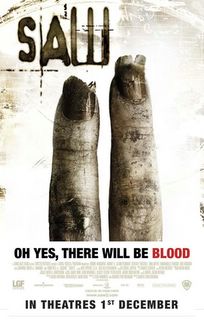 Saw II
This was followed by another horror outing, The Descent.
Click on the poster below to read my review.
The Descent