Teachers: The Lights in Our Hearts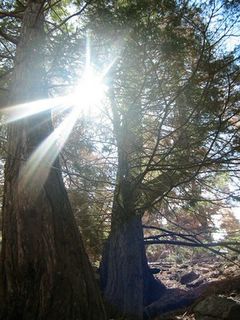 The Light they shine..

The title of this entry is derived from my poem called "A Teachers' Day Ode", which was written as a dedication to the teachers of Junyuan Secondary School and the Department of Early Childhood Education at Ngee Ann Polytechnic, last year.
The poem can be read at:
http://www.postpoems.com/cgi-bin/displaypoem.cgi?pid=391345
This year though, I didn't have time to plan or conjure something as such. I was too caught up with the whole idea of rebuilding my dramatic corner at the childcare centre for my re-assessment. Little did I realise, that this would be the first time I would be celebrating Teachers' Day as a teacher! (I know lah Student Teacher but still...)
Teachers don't do what they do for the gifts.
It was pretty heartwarming being remembered and given gifts like mango strudel, double fudge cake and lots more cake! (Thank God the era of giving red and blue pens are way over)
But, it struck me at that moment, that you don't have to give teachers gifts. Just to get a wish and to be remembered would suffice.
And it was a nice genuine feeling being there at the childcare centre as part of the teaching staff there, it really inspired me to conjure more things that I never knew I could do with these hands of mine. I'm excited at the prospect of how my dramatic corner would look like when it's fully complete. Will post pictures when it's all done!
Now, I asked for time off from the principal to go back to my alma mater. She asked if I was invited, I said "No. It's tradition!"
I missed the whole celebration as I reached there just as it ended but I was one of the last few to leave the school.
It's a great feeling to know that my teachers are proud of my achievements.
Mdm Fauziah said it best, "You guys are testimony that teachers can make a difference in their students' lives"
And it was well said. I miss my teachers. Many of them have left Junyuan since and things have really changed for the worse. And I fear, I won't see some of these faces around soon enough.
I miss my teachers who have moulded me into what I am today. They gave me the opportunities to excel in my different areas and made me a better person. I miss the ones who inspire and motivate me to always do well. I still carry their teachings with me.
I miss the laughs and tears shed over things good and bad.
There are many who can't understand what I feel for my teachers.
Had it not been for them there probably wouldn't be the MSB or Shaiful you know today.
Few can understand for you'll only appreciate your teachers even more when you've left the school. In my case, being a teacher myself makes me fully aware of what my teachers had to go through with us back in those days.
I will never forget the teachers who have made a difference in my life.
There are those who are unreachable, there are those who have disappeared and there are the few I'm still in contact with.
But, one thing is for sure, they'll always be in my heart forever.
To all my wonderful teachers who have given me so much for so little:
Happy Teachers' Day!