Gushy, Gushy, Gushy!
It seems that I'm still stuck with the Be With Me bug.
But before I go further, I would just like to say that Felicia Chin remains my numero uno local celebrity crush not that y'all don't know that already lah.
In any case, I just wanted to say that Korey sms'ed me to switch on to Channel 5 last Thursday and to my surprise Felicia was on the show! I thought she would be featured throughout the whole show and was pretty disappointed upon realising that she was in it for only ONE segment. Nonetheless, there were close-ups of her face and I was gushing and smiling to myself.
And in all honesty, only Felicia Chin's the one person on tv that's made me do that! So Soozee, the show isn't the only thing that's GUSHY now!
Anyhoo, I sensed that someone up there liked me as I didn't switch channels afterwards. Lo! After Felicia was Joanne! Wahhahaa!
I don't seem to have any new pictures of Felicia but here's the one from my old blog. Hahakz. Lovely lovely.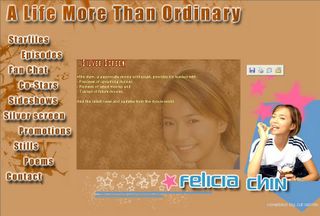 Ze Olde Blog Template
Now, on the topic of Be With Me again.
Stefan should recall my reaction upon seeing both Ezann and Samantha on screen but I have to say that Ezann's the one who I've a soft spot for. Heh.
And, I went about searching for screen caps and I found two nice ones of Zhao Wei Films!
Eiiiii, I think right, when I watch Be With Me a second time around, I confirm going to gush one! Wah lau!
Look look!
Ezann and Sam
Ezann!
Hehehehehehehehehehehehehehehhehehehehehehe.
And I just had to put the next pic up again lah!
Us again!

"Oh what's getting into me now?!"
Hahakz.
*gushes*